Our Story
THE BAND: 2022

Todd Anthony Joos - Lead Vocal, Guitar, Mandolin, Keyboards, Bass

AJ Hauser - Lead Guitar, Backing Vocal

Patrick Stramka - Drums

Gage Munnich - Bass Guitar


Todd Anthony Joos and the Revelators are set to release their NEW album "HOLDING GROUND" in 2022! The NEW album is the bands 10th full length album release! It will be available for purchase as a single 20 song album or as part of a special BOX SET Release that will also include a 2nd disc that includes all of the bands 2020 Release "POLITICS AIN'T RELIGION" and the 2021 unreleased album, "THE RONA SESSIONS". In all the Box Set consists of 40 tracks of REV goodness!! Check back for release info and availability. 

 I have been fortunate in my life to be able to have many experiences as a musician. I've had my own records chart in Billboard, I've worked with many famous artist, producers, engineers and other industry professionals from all facets of the music business. I have performed on stages from The Ryman Auditorium in Nashville to the Gravel Parking Lots of Mission Houses and Homeless Shelters as well as our Nations Prisons. I've made money, lost money, had success and failure. My life was lost and Thank God Now I am Found. I spend my days now trying to repay a debt that I owe God. It's one that I know I could never repay in full. This debt I owe, it's because of my being found. I believe through that one single act of Love which is Jesus dying on the Cross, I am found and saved!  So I am very big on the concept of if I'm doing this for God and He knows my heart then I better give it everything I've got! As my old Preacher Daddy says (and I steal many of His lines) "If God aint in it, YOU need to get out of it!" So I'm in this for LIFE! God is the air I breathe!

As a producer Todd has engineered and produced hundreds, if not thousands of recordings. In addition to working with a huge list of indie artist Todd has also worked with major artist and industry pro's like Dizzy Reed (Guns N Roses), Gates Nichols and Jimmy Dormire (Atlantic Records Confederate Railroad), The Animals (Rock and Roll Hall of Fame members), Bob Ludwig (mastering engineer, Rush, Nirvana, Eric Clapton, etc.), Nick Blagona (mastering engineer, recording engineer/producer Foo Fighters, The Police, Rainbow, Ian Gillan, etc.), Leo Jackson (nashville session musician and producer. Band Member of Country Music Hall of Fame artist Jim Reeves and the Blue Boys), Dale Sellers (Nashville session musician Elvis Presley, Kenny Rogers), Dennis Ritchie (Nashville engineer/producer Robert Duvall, Don McLean, B.J. Thomas, Delbert McClinton, Vince Gill, George Jones, Johnny Cash, Ricky Scaggs, Johnny Paycheck, Randy Travis, Ricky Van Shelton, Tammy Wynette, Sweethearts of the Rodeo, New Grass Revival, Suzie Bogguss, The Forester Sisters, Shirley Caesar, Aaron Tippen, John Berry, Lari White, Sylvia, Patty Loveless, Jimmy Osmond, David Allen Coe, K. T. Oslin.) Wayne Hodge (Nashville producer, David Allen Coe, Little Jimmy Dickens, etc.), David Frazier (former Atlantic Records artist with the band Outspoken).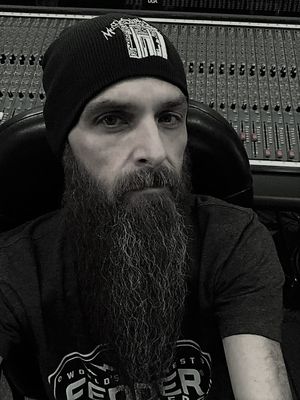 I am often asked, Todd why is your brand of Christian rock music so hard-hitting and sometimes to the point of being abrasive? I'll simply tell you this, life is hard hitting and sometimes abrasive. I sure know mine has been. I would venture to say that many of you reading this have had the same experience. The messages in my music I feel were given to me directly from God. I'm not trying to tell you that I've had some sort of burning bush experience or that I came down out of the mountain with a set of stone tablets containing that message. I'm just a firm believer that all of life's experiences are from God. I mean the good the bad and the ugly. It seems to me that in our human need to define everything and to have immediate understanding and purpose for all that happens to us, we've decided to make defining parameters within our faith that explain away bad negative experiences as of the devil and all of the good nice feeling experiences are listed under the category of a blessing and divine intervention. To me that is simply crazy. I know that in my own life experience so many times I have lived through wilderness periods. And from those times even through all of the most negative experiences, and even when there is not immediate understanding and clarification, I most often later on come to a place where I accept and understand the actual positive effect and lesson learned within my life. For some reason this most often has nothing to do with prosperity, streets of gold, kingdoms on earth or mansions in the sky. I have to be honest and tell you, I tried to play nice and go back into the church and lead what the modern church calls praise and worship. I did it for 6 years. If I am to be honest it was like trying to fit a square peg into a round hole. I did not understand so many things about how that world politically operated. I won't waste anybody's time with details about this. It is sufficient to say that it caused me to feel negative and bitter. However this situation has become one of those blessings born out of a negative experience that I could not make sense out of at the time. The blessing is that I now understand that type of ministry is not for me. I believe God gives each of us a purpose and just like specialist within the medical profession, we all have an area of maybe not necessarily expertise but one that is of usefulness unto God Almighty. My understanding is that for me to stand in front of a church congregation week in and week out and have them judge everything about what is going on around them instead of focusing on what they can give back to God is about like having a greyhound race dog hang out in your backyard to fetch the ball and bring it back to you. I needed to get out and go to where people were hurting. To go where they needed to hear about the love of Jesus because they were so desperate it's the only medicine they can take. To try and lift them up and bring them back to who they really belong to, Jesus. So this ministry that I have tends to associate with the downtrodden of society, the whores the drug addicts the thieves, God's children. I find the difference is that these lost people seem to understand who and what they are and have a huge desire to break away from being lost. So this is where I fit. This is how I best serve and this is why my songs contain subject matter that speaks to these people. I should stop rambling now. So for now I will leave you with this, when I was a very young child my very hip, actually almost hippie preacher of a dad took me to see and meet the music evangelist Larry Norman. for those who don't know who Larry was Google him. What you will find is everything from sinner to saint. I never cared what they said about him. All I knew is Larry had some killer tunes! He told it like it was. I should have known I was in for a lot of trouble and a long ride in my own life when I was bit by the bug of his lyrics. I'll never forget hearing Larry sing the lyric, "Gonorrhea on Valentines day and your still looking for the perfect lay. Why don't you look to Jesus He's got the answer?" Yep,,,,,I was doomed ha ha ha.... Keep loving each other and why don't you look to Jesus? He really is the answer! God Bless my friends!!